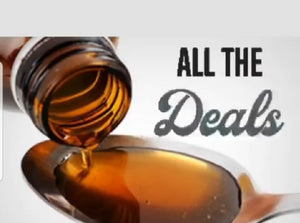 Apet Syrup is a vitamin syrup that assist in increasing your appetite. Also helps your body store fat instead of burning fat. Targeted for a few popular reasons & personal goals. Loss of appetite, poor eating habits, and or just wanting to simply gain and maintain healthy weight. Start your weight gain journey today with the proper nutrients. Designed for both Men & Women, with Ingredients such as Vitamin C Vitamin D3 Vitamin E Vitamin K Vitamin B12.
I highly recommend 1 to 2 dosage due to drowsiness. Directions do display 3 times but i recommend 1-2. Gain 5 to 6 lbs in a bottle.
Keep in mind when shipping bottles they do tend to leak. However if your seal is NOT broken the bottle is fine. 
The Tablets consist of 20 pills. You take 2 a day. It's a 10 day supply.
All sales are final please take this into consideration before purchasing.