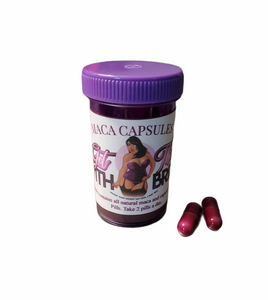 100% ALL NATURAL VEGAN MACA CAPSULES 
Organic maca root 500mg vegetarian capsules made fresh to order without any fillers or binders of any kind. Suggested dose is 1-3 capsules daily as needed with food. Country of origin is Peru.
Maca is not currently associated with any health risks in most people and is unlikely to cause any side effects in moderate doses. However, due to its effect on hormones, people with thyroid problems should avoid taking maca.
QTY 30